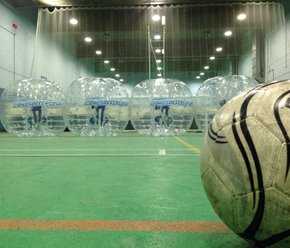 Why Choose Us?
Zorb Soccer are an independent Bubble Football company and put Customer Satisfaction First. We aim to be competitively priced and offer the best service around. We feel past bookings from great people have allowed us to prosper and grow. We take feedback on board and are always looking for ways to get better and better! We are also very punctual, informative and we only employ staff with great enthusiasm.
FAQ'S
WHAT IS ZORB SOCCER?
Also known as Bubble Football, you simply put the Zorb over your head, strap up and you're ready to go and play. A multiple of games can be enjoyed from football, last man standing, british bulldog and more.
AM I ABLE TO FIND MY OWN VENUE?
Yes, we are able to attend anywhere required, please contact a member of the team so we can provide you with a quotation.
WHAT DO I WEAR?
You will need to ensure you wear sensible clothing such as a t-shirt/hoody, jogging trousers and trainers (No Football Boots or Blades/Moulds). No jewellery will be allowed. We can also provide custom team t-shirts for your booking to create the ultimate playing experience (at an extra cost)
CAN I PAY ONLINE USING MY CREDIT/DEBIT CARD?
Yes you will be able to make payment using paypal. We are able to except cash on the day however the Deposit of £60 must be paid at the time of booking via credit/debit card.
WHAT ABOUT CANCELLATIONS?
The deposit for the booking will be non-refundable. However, as long as we are given 72 hours notice a one off date change may be possible subject to availability.
WHAT ARE THE REQUIREMENTS?
Requirements: This is only for 13 year olds and above due to the size of the Zorbs and nature of the game. Min Height 4.10'' to Max 6.5'' If you're very muscly or generally over 6.5 in height, there is a possibility that you may not be able to fit inside the Zorbs. Max Weight 18 Stone.